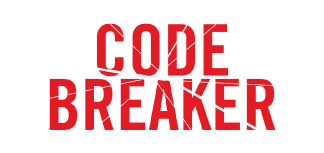 To celebrate the centenary of the birth of Alan Turing  Computing At School (CAS) is running a " Codebreaker" themed competition in association with Animation12.  Working as a codebreaker at Bletchley Park during World War 2 Alan Turing's work was significant to the development of the modern computer. Following this breakthrough Computer Scientists working at  Manchester University invented the first stored-program computer in 1948.
What do I need to do?
We want you to develop an interactive program on the theme of "Codebreaker." Entries can take many different forms and be connected to the theme in a variety of ways, for example puzzles related to code breaking, action games that have code breaking as the game theme or story, or education simulations related to codes. It is not intended that the player task is to necessarily break a code, a general link to the theme is sufficient.
Entries can be from individuals, or groups (of up to 4 members). Individual and group entries compete in separate categories.Entries are submitted in 3 age categories (KS3, KS4 and 16-plus).

Participants can enter multiple programs to the competition (but can only be awarded one prize).
All entrants will receive certificates, and winners will receive prizes ranging from laptops to gift vouchers, plus the opportunity to spend a day at a leading games studio.
Winners will be invited to the exciting Animation12 Festival and Inspirational Computer Science Day at the Martin Harris Centre, Manchester, in July 2012.
Entries must be created using Greenfoot. We regret we cannot accept entries made using other programs.
Read the full rules for the competition.
Still got questions? Check the FAQs.
How do I enter?
Entries must be submitted from a registered school.
Submissions comprise two parts:
The program.
A one-minute video ( filesize < 50Mb) to showcase the program and demonstrate its action. This will be used as a pre-screening tool for judging.
Detailed instructions for production of the video and program are available in the full rules.
Content of the video
The one-minute video should show off all the relevant features of your entry. It should demonstrate all functionality and content you would like to be taken into account when judging your submission. The video may include a voice-over with your explanations and commentary, pointing out features and characteristics that make your entry stand out.
The first round of judging will be based solely on this video. Do not depend on judges playing your game, or experimenting with your project, to discover hidden features. Mention everything relevant in the video. In a second round of judging, judges will examine and execute the source code for the top contenders of the first round only.
Videos must not be longer than one minute. Judges will not view videos beyond that time.
Resources
The Codebreaker team have put together this set of examples (zip, 4Mb) to help you develop your entry.