About the Speaker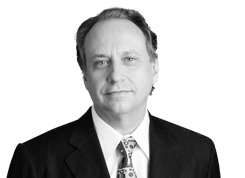 Rodney A. Brooks is the Panasonic Professor of Robotics at MIT. He is also co-founder and Chief Technical Officer of iRobot Corp (nasdaq: IRBT). From 1997 - 2003 and from 2003 - 2007 he was, respectively, Director of the Artificial Intelligence Lab and of the Computer Science & Artificial Intelligence Lab. He received degrees in pure mathematics from the Flinders University of South Australia and the Ph.D. in Computer Science from Stanford University in 1981. He held research positions at Carnegie Mellon University and MIT, and a faculty position at Stanford before joining the faculty of MIT in 1984. His research is concerned with both the engineering of intelligent robots to operate in unstructured environments, and with understanding human intelligence through building humanoid robots. He has published papers and books in model-based computer vision, path planning, uncertainty analysis, robot assembly, active vision, autonomous robots, micro-robots, micro-actuators, planetary exploration, representation, artificial life, humanoid robots, and compiler design.
Dr. Brooks is a Member of the National Academy of Engineering (NAE), a Founding Fellow of the Association for the Advancement of Artificial Intelligence (AAAI), a Fellow of the American Academy of Arts & Sciences (AAAS), a Fellow of the American Association for the Advancement of Science (the other AAAS), a Fellow of the Association for Computing Machinery (ACM), a Foreign Fellow of The Australian Academy of Technological Sciences and Engineering (ATSE), and a Corresponding Member of the Australian Academy of Science (AAS). He won the Computers and Thought Award at the 1991 IJCAI (International Joint Conference on Artificial Intelligence). He has been the Cray lecturer at the University of Minnesota, the Mellon lecturer at Dartmouth College, and the Forsythe lecturer at Stanford University. He was co-founding editor of the International Journal of Computer Vision and is a member of the editorial boards of various journals including Adaptive Behavior, Artificial Life, Applied Artificial Intelligence, Autonomous Robots, the International Journal of Humanoid Research, and New Generation Computing. He starred as himself in the 1997 Errol Morris movie "Fast, Cheap and Out of Control"; named for one of his scientific papers, a Sony Classics picture, now available on DVD.
Turing's Humanoid Thinking Machines
In his paper "Intelligent Machinery" Alan Turing suggested the idea of building a `thinking machine' by making a machine that emulated as many parts as possible of a person, and letting it "roam the countryside" finding things out for itself -a robot that was to learn from its experience in the ordinary world.  Turing rejected that idea as not practical at the time and moved on to more disembodied suggestions of how to build a thinking machine.  Now that we have experience with humanoid robots we can examine some of his briefly expressed ideas on such robots, and the challenges of what might be missing in such an enterprise, and see how it is playing out now that it is practical to build the machines he suggested.  But even further we can re-examine Turing's models of human behavior to produce a formalism for computation, and compare that to computational neuroscience which tries to explain human thought as computation.