About the Speaker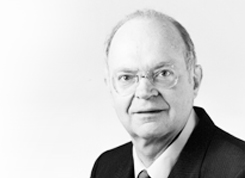 Donald E. Knuth is an American computer scientist and Professor Emeritus at Stanford University.  He has been called the 'father' of the analysis of algorithms and wrote the multi volume work The Art of Computer Programming, which covers many kinds of programming algorithms and their analysis.  He is also known for the creation of the TeX computer typesetting system and the METAFONT font definition language and rendering system.
Knuth studied Physics and Mathematics at the Case Institute of Technology and earned a PhD in Mathematics from the California Institute of Technology in 1963. He has won various awards for his work, notably the Turing Prize in 1974 for his contributions to the analysis of algorithms and the design of programming languages, the IEEE John von Neumann Medal for "outstanding achievements in computer-related science and technology" in 1995 and the Kyoto Prize in 1996.
All Remaining Questions Answered
This will be an impromptu question-and-answer session in which Prof Knuth will try to discuss whatever he can think of that hasn't already been covered by the other speakers.