About the Speaker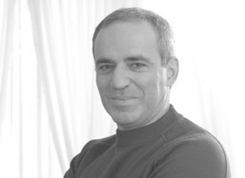 Born in Baku, Azerbaijan in 1963, Garry Kasparov came to international fame as the youngest world chess champion in history in 1985 at the age of 22, taking the title from the Kremlin favorite. His peak rating is still the highest of all time. Mr. Kasparov's outspoken nature did not endear him to the Soviet authorities, giving him an early taste of opposition politics. From 1989-91 he played a prominent role in the democratic opposition to the Soviet system.
After twenty years as the world's top-ranked player, Mr. Kasparov retired from chess in 2005 to take up the struggle for Russian democracy full time. His organization, the United Civil Front, is a member of the Solidarity opposition alliance that staged "Marches of Dissent" across Russia to protest President Putin's authoritarian crackdown on democracy and civil rights. The ongoing efforts of Kasparov and his allies are directly connected to the popular eruption of anti-Putin protests that took place after the corrupt parliamentary elections at the end of 2011 and the similarly fraudulent presidential election of March 2012. Kasparov continues to be a potent voice for democracy and civil rights in Russia and around the world. For more information on what's really happening in Russia today, please visit theotherrussia.org.
The US-based non-profit Kasparov Chess Foundation promotes the teaching of chess in schools. Chess has been demonstrated to improve academic performance as well as encouraging friendly competition between kids of all ages and backgrounds. KCF establishes a blueprint for bringing chess to millions of kids. Since its founding in 2002, the KCF program has reached over 3500 schools in every state. In 2011-12, international outposts were launched in Sao Paulo, Brussels, and Johannesburg.
Mr. Kasparov became a contributing editor to The Wall Street Journal in 1991 and has been a frequent commentator on politics and human rights in dozens of publications. He speaks frequently to business audiences around the world on innovation, strategy, and decision-making. His book "How Life Imitates Chess" on business and decision-making is available in over 20 languages. He is the author of an acclaimed series of chess books, "My Great Predecessors" and "Modern Chess". He lives in Moscow.
The Reconstruction of Turing's "Paper Machine"
It is an amazing fact that the very first chess program in history was written a few years before computers had been invented. It was designed by a visionary man who knew that programmable computers were coming and that, once they were built, they would be able to play chess. The man, of course, was Alan Turing, one of the greatest mathematicians who ever lived. Soon after the war he wrote the instructions that would enable a machine to play chess. Since there was as yet no machine that could execute the instructions he did so himself, acting as a human CPU and requiring more than half an hour per move. A single game is recorded, one in which Turing's "paper machine" lost to a colleague.
Garry Kasparov will sketch the historical context of Turing's involvement in chess and then go on to describe how the chess computer experts reconstructed the paper machine to run on a modern day computer. In the process they encountered a problem: the chess engine refused to duplicate all of Turing's moves as recorded in the historical game. The debugging process, in which computer chess pioneer Ken Thompson was involved, left the programmers baffled. Then someone called Donald Michie, a colleague from Bletchley, who advocated debugging not the program but Turing! "Alan did not care about details; he was interested in general principle." Kasparov's lecture will discuss the points of deviation from the recorded game.
In the second part of the lecture Kasparov will describe a number of Turing Tests that have been performed for chess. For a while it was impossible to reliably tell computer games from those of humans. However, today the task has become simpler because of the ruthless precision of computer play, which has reached a level of many hundreds of Elo points above the best human players.