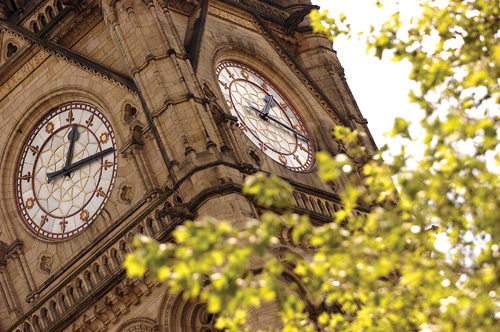 Manchester is one of the largest metropolitan conurbations in the United Kingdom, justly proud of its history and heritage, its culture, enterprise and its entrepreneurial spirit. Initially, Manchester rose to prominence as the dominant international centre of textile manufacture. The urbanisation of Manchester coincided with the Industrial Revolution and the Victorian era, after which became the world's first industrialised city. In more recent times, it has had to reconfigure its traditional manufacturing base, and reinvented itself as a centre of the arts commerce, media and higher education. Manchester is the hub of the third largest population centre in the UK, and was regarded in a poll of British business leaders published in 2006 as the best place in the UK to locate a business.
Manchester is also associated internationally with football. Two Premiership football clubs bear the city's name, Manchester United and Manchester City. Manchester United's Old Trafford ground, which is just outside the city, is the largest club football ground in the United Kingdom.
Manchester is well connected both within and outside the UK, with the busiest airport in the UK outside London offering direct flights to many European cities, and further afield with direct connections to the United States (Atlanta, Chicago, Las Vegas, Miami, New York, Orlando, and Philadelphia), Middle East (Abu Dhabi, Doha, Dubai) and Asia (Islamabad, Jeddah, Karachi, Singapore).
Please see this page for directions to reach Kilburn Building, home of the School of Computer Science, from pretty much anywhere in the world.
The conference dinner will be held in the Manchester Museum. The Manchester Museum is home to one of the largest and most important collections of ancient Egyptian artefacts in the United Kingdom. The collection includes objects from prehistoric Egypt (c. 10,000 BC) to the Byzantine era, up to around AD 600. The dinner will take place in the pre-historic Life Gallery with Stan (the T-rex).