This was held on the evening of Friday June 19th using a marquee outside the entrance to the IT building. Many past and present members of the department attended.
1.Inside the Marquee
---
2.Outside the Marquee
At the back is the entrance to the IT building; this is an Annexe to the Computer Science building (on its left, see picture below, with narrow windows), connected by a short passage/bridge on the top level. Electrical Engineering occupy the ground floor, as an annexe to their Dover Street building, and Manchester Computing occupy the ground floor of the Computer Science building.

Top of page
---
To the right is Mrs. Thomas.

Top of page
---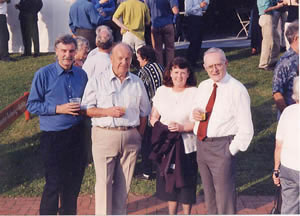 Professor Brian Warboys is the current Head of Department. Suzanne was a "Punch Girl" in the Department c. late sixties/early seventies; she married one of our graduates and they later moved to Australia.

Top of page
---
Professor Brian Warboys is the current Head of Department. Professor Simon Lavington (XTS) of the University of Essex has written books on early British Computers, in particular "A History of Manchester Computers", a second edition of which was published in 1998 to coincide with the Celebrations; this is reproduced on the CD-ROM also produced for the Celebrations. This book is one of the sources for these pages.

Top of page
---
6.The Dewsbury Boys!
Tom Kilburn with Mohammed Khalil. Both were born and brought up in Dewsbury, Yorkshire.
In fact Tom commuted by train from Dewsbury throughout the period of 1947 and 1948 when he was under secondment from TRE (and the winter of 47/48 was spectacularly severe). Given the temporary nature of his move to Manchester, he and his wife lived with his parents.
Khalil has contributed many of the photographs of the Party and Open day. He graduated at UMIST, and was a Research assistant in Hilary Kahn's MINT group and now works at Manchester Computing.

Top of page
---
Suzanne Briscoe (on the Left) and Neale Jones (on the Right) were the full time staff helping Hilary Kahn in the 1998 Conference Office. In the middle is Neale's fiancee (now wife). Suzanne is still in residence, in the same office, now the MINT group secretary.

Top of page
---
8.The Class of '66
The second intake of Computer Science undergraduates held a Reunion Dinner the day before the Party.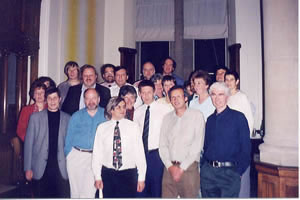 CCo      SYo       RHa  BPa                    KEY
        * *         DLe     BBu     ARo       *JCl   PBo
           MKi      DOt       LDa PBu   CBi     SEd     *
                           RWh             GFr      RPh

CBi Chris Biscombe
LDa Lucy Davies
DLe Dik Leatherdale
PBo Pete Boyce (now Tedd)
DOt Dave Otway
BBu Bill Buffam
SEd Susan Edmondson
BPa Brian Parsons
PBu Phil Burke (now Clucas)
RPh Roger Phillips
JCl John Clucas
GFr Gordon Frank
ARo Anne Rogers
CCo Chris Coatesworth
RHa Roger Haigh
RWh Rob Whittingham
MKi Mike King
SYo Steve Youle
* These are some wives of those present -- apologies for not identifying ladies not in the 1966 class.